2016
On Sunday the 13th November 2016 the village was able to have its first Remembrance Day service outside around the War Memorial. Last year we were all washed into Church with the rain.
The weather was good and those attending were joined by Churches Together ministers, vicars, deacons and priests of all the churches, Councillors from the Parish and Borough and the MPs representative.
The service was given by different Church representatives and Last Post and National Anthem played by a local resident, Alison Waring - thank you to all.
The service was very well attended and much appreciated by all who were there.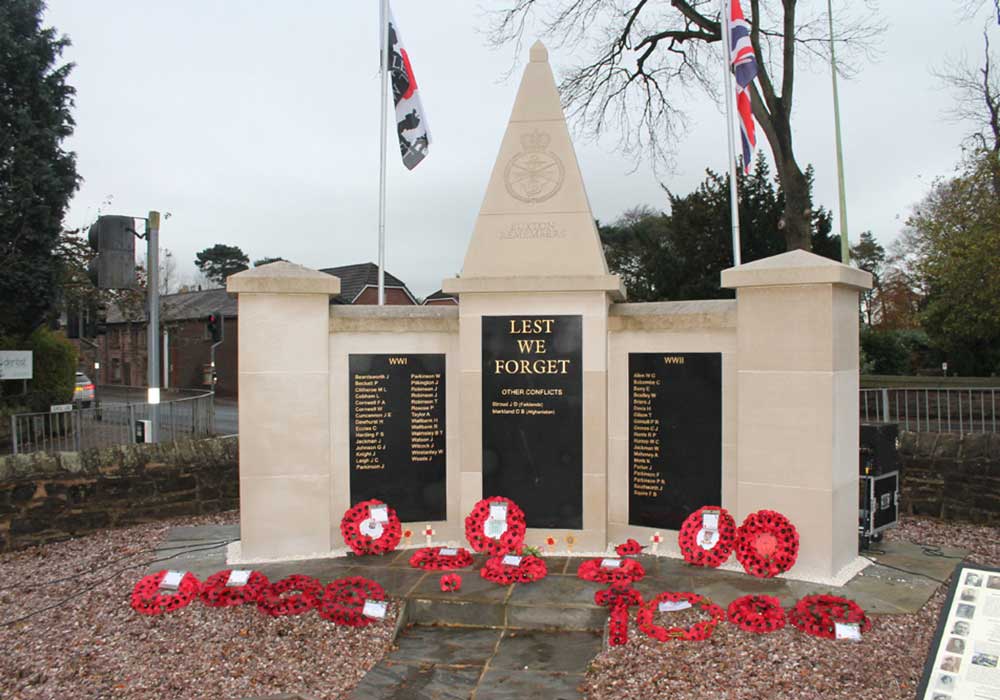 2015
Euxton's New War Memorial (put in photos Before, Groundwork, Foundation, Group, Crowd).
Click an image to enlarge.
On July 12 2015, Euxton War Memorial Group in conjunction with Euxton Churches Together proudly presented a new landmark and monument to fellow Euxton residents.
The War Memorial outside of Euxton Parish Church Community centre was the culmination of five years of passionate determination from a very small group of people.
This group worked tirelessly from day one to find land, fundraise, design, procure and build a monument that is both contemporary and traditional in its materials, its look, clean lines and its meaning.
It may seem like a simple structure to many who bear witness to it, but I can assure that the journey taken by the group wasn't easy, many technical challenges and negotiations to land ownership, post build custodianship, planning permission, material selection, underground surveys, foundations, researching of names, fundraising of monies and many more hurdles faced the group.
It was a journey that was borne out of a deep and painful loss for several of us, which has ended with somewhat of a closure, though the sudden loss of a loved one will always be felt. I am very thankful to everyone in the group who shared this journey and carried it through to the end.
The group owe an enormous debt of gratitude to the many individuals, businesses and organisations who came to us to help and bring the monument to a reality. There are too many to name individually, but they all know who they are, our gratefulness to their contribution is now set in stone at the village centre.
From now on, on armistice day each year, Euxton can come together in one place to pay its respects to all of its fallen. We have done them proud.
Thank you. Steve Berry, Secretary, Euxton War Memorial Group
Handover
Council members attended an official handover ceremony in July at the new War Memorial.
The Euxton War Memorial Group officially handed over the Memorial to the Parish Council so its future can be guaranteed to be provided for and maintained by the most local authority to Euxton.
Click an image to enlarge.
The Parish Council has powers to maintain, repair and add to War Memorials but not a power to provide within its list of functions. When members of the group approached the Council to help create a memorial it was decided that an independent group which could fund raise, register as a charity and ask for support from the council would be the best way forward - and it obviously was - so the group was formed.
The plan for the group was always to design and secure funding to build and deliver the new war memorial but, to hand it over to Euxton Parish Council for it to be secured a safe future.
The Parish Council would like to say, and reiterate all the positive comments it has heard from residents, how proud and grateful we all are to the group members for working so hard, tirelessly over the past few years to provide this wonderful feature. The Parish Council gave to the nine group members a gift each in appreciation of their work.