Euxton Walkers Map
This is the 2017 revised version of the map, first printed in 2003.
The Parish Council first commissioned a walking map to illustrate the public footpath walks and areas and buildings of special interest around the village.
Following production of the map leaflets which were distributed to all village homes 2 map boards were erected, one outside the Library and the other on Southport Road next to the Yarrow Valley car park and walk.
The new 2013 revised map was distributed to all Euxton households in the village.
Display map boards can be found outside the Library on Runshaw Lane, at Southport Road adjacent to the Yarrow Valley Car Park and Skate Park, and in Euxton Buckshaw Village adjacent to the Community Centre, Hub and Medical Centre.
Copies of the Walkers Map are available from the Council and available in the Library.
Euxton, Chorley, Lancashire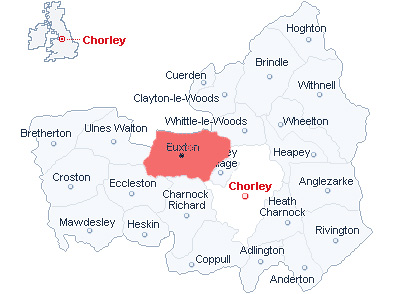 This is a map of Chorley shown on the British Isles map as being in the North West England. Euxton is shown adjacent to the North West side of Chorley (shown shaded in).
How To Get To Euxton
M6 Junction 28 (Leyland) head South on the A49 in to the village.
M61 Junction 8 (Southport/Chorley) head West and on to the B5252 past Chorley Hospital and you will cross over Euxton's boundary on this road referred to as Euxton Lane.